When: Thursday, August 10th, at 2pm ET (11am PT)
What: Oral Arguments for State of Missouri, Et Al. v. Joseph R. Biden, Jr., Et Al. Appellants
Where: Livestreamed on CHD.TV
Original Source: United States Court of Appeals for the Fifth Circuit (en banc courtroom link will be live during the hearing)
Mp3 of Oral Arguments From Original Source: Mp3 Link
Local Copy Oral Arguments:
Case Files: Court Listener Link
Synopsis:
"Social media platforms, acting at the federal government's behest, repeatedly censored NCLA's clients for articulating views on those platforms in opposition to government-approved views on Covid-19 restrictions. This insidious censorship was the direct result of the federal government's campaign to silence those who voice perspectives that deviate from those of the Biden Administration. " (NCLA Case Summary)
Read More Background on Meryl Nass' Substack.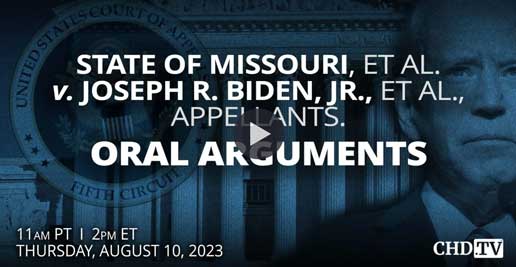 You might also be interested in…