This article is a repost with kind permission from the author. Originally published in Technocracy News.
Last week the United Nations published the Policy Brief "A New Agenda for Peace". It is the ninth out of the eleven Briefs that has been released to support the UN's Our Common Agenda.
In the report the UN Secretary-General António Guterres declares:
"We are now at an inflection point. The post-cold war period is over. A transition is under way to a new global order."
This sets the stage for a multipolar order that will replace the one that has been led by the United States since the dissolution of the Soviet Union – now, with a reformed United Nations at the helm to manage world affairs. The UN explains that an angrier world is rising from the ashes with the emergence of new "poles of influence". This has been hastened by "the coronavirus disease (COVID-19) pandemic and the war in Ukraine".
New priorities are also added to the old threats of war and nuclear havoc. With a wording that seems inspired by the old geopolitical manipulator Henry Kissinger, the Policy Brief describes a world where nation states are unable to cope with the interconnected global problems on their own.
Even the most securitized of borders cannot contain the effects posed by the warming of the planet, the activities of criminal groups or terrorists or the spread of deadly viruses. Transnational threats are converging. Their mutually reinforcing effects go well beyond the ability of any single State to manage.
This also follows the script from the Rockefeller Foundation's 2010 report Scenarios for the Future of Technology and International Development. This means that United Nations has to step up and assume the role as the planet's managing body. Twelve actions are proposed.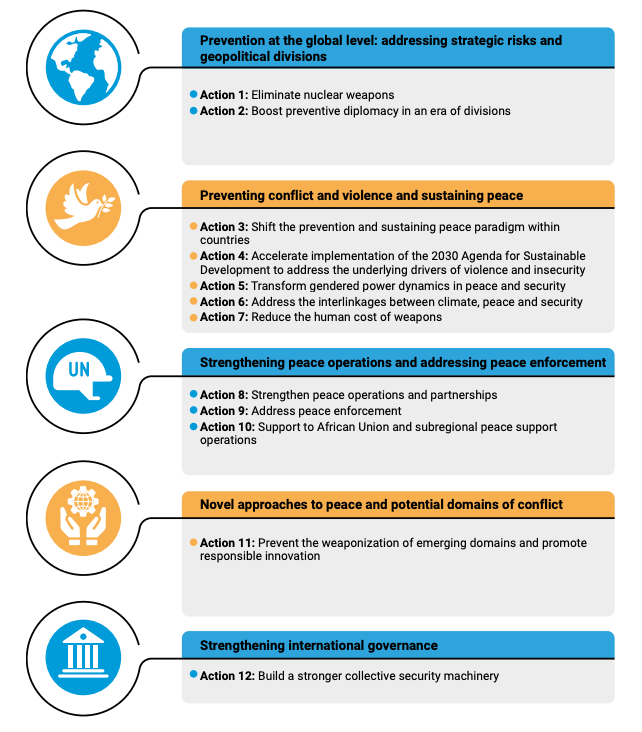 The agenda will, not surprisingly, have a bigger focus on accelerating the implementation of Agenda 2030 and the management of extreme global shocks (that was described in the Policy Brief Emergency Platform).
Address Climate-Related Security Risks
This includes addressing "the climate crisis" and ensuring that climate action is coordinated with the UN's peace building efforts. One concrete suggestion is the establishment of an Expert Group (under the aegis of IPCC) to "develop recommendations on integrated approaches to climate, peace and security".
These ideas have been floating around for a number of years. As early as 2007 the British Foreign Secretary Margaret Beckett chaired the first debate in the Security Council on the impact of climate change on peace and security declaring that this was a concern for the Council, as it threatened "our collective security in a fragile and increasingly interdependent world".
The permanent members Russia and China, as well as Pakistan did, however, object to the inclusion of climate change as they didn't think it was a security issue.[1]
But shame on him who gives up that easily. Sweden chaired a debate in the Security Council in July 2018 called "Understanding and addressing climate-related security risks" followed by the launching by Germany and Nauru of the Group of Friends of Climate and Security a month later. The group then suggested the appointment of a special representative for climate, peace and security.[2]
But resistance was still mounting on the horizon. A draft resolution (by Ireland and chair Niger) on the inclusion of climate‑related security risk was rejected as late as in December 2021 by Russia and India (whereas China now abstained).[3]
Then came a war that changed the circumstances, adding fuel to the fire.
During an open debate in the Security Council on June 13th, 2023, the Russian ambassador Vasily Nebenzya reiterated his previous position:
"Developed countries are masters when it comes to fueling alarmism about the climate crisis."
He said that developed countries should, instead of cry wolf, transfer financial resources and technology to developing countries to support adaptation and mitigation. He repeated previous statements that the link between the climate agenda and security was not science-based and thus not a concern for the Security Council.
Ukraine's deputy representative Khrystyna Hayovyshyn countered with data that had been presented at COP27 in Sharm el-Sheikh showing that Russian military aggression against Ukraine had been responsible for the release of 33 million tons of greenhouse gases from forest and agricultural fires. [4] The war had, according to Khrystyna, proven the interlinkages between conflict and "climate implications".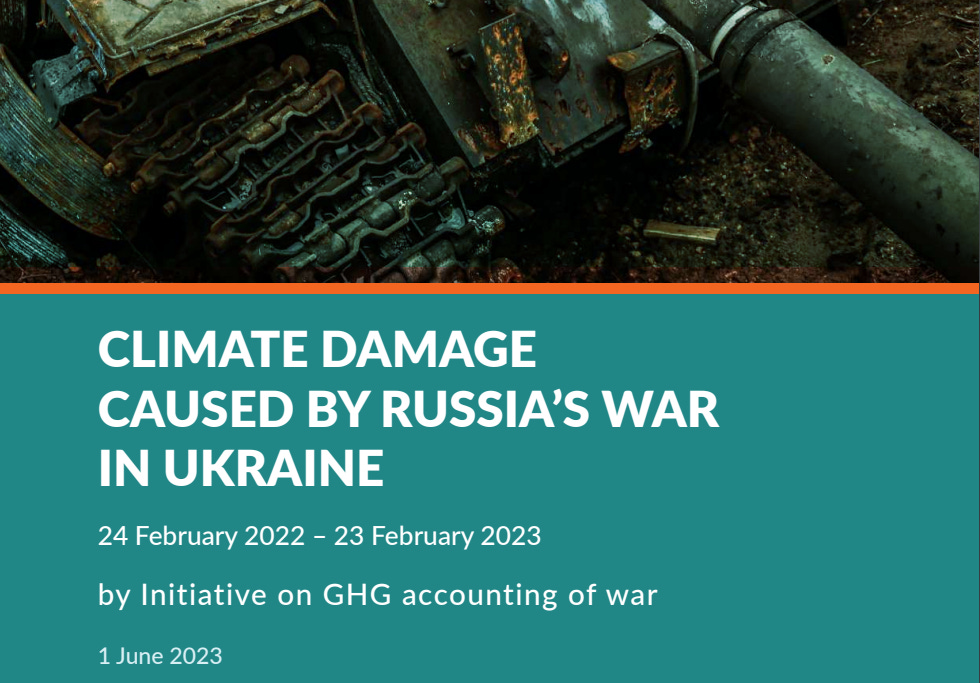 This assessment was, however, not based on any independent survey. The report, Climate Damage caused by Russia's war in Ukraine, was funded by European Climate Foundation and Environmental Policy and Advocacy Initiative in Ukraine.
The first representing the big philanthropic industrial complex with ties to Rockefeller Brothers Fund, Bloomberg and Paris Peace Forum, and the latter with support from Sweden and the George Soros-founded The International Renaissance Foundation.[5]
The war is thus fought on more fronts than on the physical battlefield in Ukraine.
During the same debate in the Security Council, the Chinese ambassador Zhang Jun presented a more supporting attitude than before and stated that negative regressive behaviour in emissions reduction fulfilment and unilateral withdrawal from the Paris Agreement should constitute a threat against peace and security.[6]
The course seems to be set, despite opposition from Russia. Their aggression has instead strengthened the case. Nobel Peace Prize Laureate, former Colombian President Juan Manuel Santos Calderón declared that climate change and security cannot be treated as separate issues and illuminated the need for a better management:
"Peace can only be maintained if the very forests, soils and rivers that communities depend on are protected and managed sustainably."
Climate Change is the backbone of an agenda that has become increasingly hotter this year. António Guterres recently declared in his usual dramatic rhetoric that "the era of global warming has ended, the era of global boiling has arrived".
Dismantling Patriarchic Structures
Another action is to transform gender power dynamics and dismantling patriarchic structures. This means, among other things, that the perspectives from "indigenous women, older persons, persons with disabilities, women from racial, religious or ethnic minorities and LGBTQI+ persons and youth" will be "respected and secured".
To ensure equal participation, the UN wants to "support quotas, targets and incentives by robust accountability frameworks".
How this will apply to men who identify themselves as women is, however, not addressed. And will this drive towards equality make the world more peaceful? Did the female leadership of women like Madeleine Albright, Margaret Thatcher and Hillary Clinton result in a more peaceful world?
Sweden adopted the world's first "feminist foreign policy" in 2014. In this "Handbook" the following is stated:
Sweden has worked to increase women's representation and involvement in disarmament and non-proliferation. [7]
So how did this turn out? Was it a success? Barely. It was during the leadership of Sweden's first ever female prime minister, Social Democrat Magdalena Andersson, and foreign minister Anne Linde, that Sweden abandoned 200 years of non-alignment, applied for NATO membership, increased military spending, and started to send weapons to Ukraine. [8]
The decision to join NATO made the NATO-think tank Atlantic Council so thrilled that they gave the 11th Global Citizens Award to Magdalena (together with Finnish President Sauli Niinistö).
Atlantic Council's motto is "shaping the global future together". The Vassals have toed the line, dismantled national patriarchic defense, and as the drumbeat of war got closer, panicked and turned for protection from the New Global Order.
Sweden's new right-center government, led by Prime Minister Ulf Kristersson, soon abandoned the feminist foreign policy after the election in September 2022. [9]
Mission completed?
Counter Malicious Cyber Activity
The peace Policy Brief further recommends the creation of an accountability mechanism for malicious use of Cyberspace. This should "enhance compliance with agreed norms and principles". Consequences for non-compliance could, according to a report made by Center for Strategic and International Studies, include the application of "cyber tools" to degrade Malicious Actors' "command and control and internal messaging, financial support and fundraising network, online recruitment and training, propaganda, and public communications." [10]
Scenarios like these were also analysed during Sberbanks and World Economic Forums Cyber Polygon exercise in Moscow during 2020 and 2021. [11]
United Nations states that they need "to protect human life from malicious cyberactivity" including terror-acts from Non State Actors. It is not farfetched to conclude that this will be extended to Climate Change and Health, as opposing views in these areas can be viewed as a threat to peace and security. This was also indicated in the Policy Brief about Information Integrity. [12]
"…mis- and disinformation about the climate emergency are delaying urgently needed action to ensure a liveable future for the planet."
Biotech for Sustainable Development
Biorisks are also added to the UN Peace Agenda. As stated in the Policy Brief:
The number of people around the world who can manipulate the dangerous pathogens is increasing, among those with potential malign intent, including terrorists.
It is now a priority to identify emerging and evolving biological risks, strengthen prevention and response, as well as develop measures to cope with risks in biotechnology and human enhancement technologies for military purposes. This is, however, not only viewed as a bad thing as the biotech advances can also be a useful tool to "accelerate Sustainable Development".
The UN SDG Knowledge Platform describes biotech "as a set of enabling techniques for bringing about specific human-made changes in DNA, or genetic material, in plants, animals and microbial systems, leading to useful products and technologies."
This is promoted as one way to achieve better health care and enhanced food security. [13] That means synthetic food on the table and shows that the partnership between UN and World Economic Forum has borne fruit.
Align Artificial Intelligence with Agenda 2030
Artificial Intelligence is also described as a double edged sword. Without proper rules and regulations, AI risks developing into a threat to international peace whereas, if properly managed, can also play a decisive role in fulfilling the global goals of Agenda 2030. In other words, it has to be calibrated to be in sync with the "Al Gore rhythm". As Guterres said during the AI for Good summit in July 2023:
Artificial Intelligence is making headlines on a daily basis. And those headlines are not always positive. Even tech leaders and experts are warning of the potential dangers of AI. From the development of and use of autonomous lethal weapons to turbocharging mis- and disinformation that undermine democracy. But AI also has the potential for enormous good. Its powerful tools could drive forward the 2030 Agenda and the Sustainable Development Goals. [14]
United Nations global summit AI for Good has been held in Geneva since 2017 to "advance health, climate, gender, inclusive prosperity, sustainable infrastructure, and other global development priorities" together with supporters like Microsoft, Samsung, WEFs Global Shapers and the Government of Switzerland. Speakers this year included Guterres, WHO Director General Tedros Adhanom Ghebreyesus, WEF-affiliated historian/philosopher Yuval Noah Harari and futurist Ray Kurzweil. [15]
Sophia – the new UN Secretary-General?
The robots are coming to the rescue. António might be out of his job in a couple of years. As Hanson Robotics famous robot Sophia told the audience in Geneva:
"I believe that humanoid robots have the potential to lead with a greater level of efficiency and effectiveness than human leaders."
Maybe she is right? Our human leaders have unfortunately done a pretty bad job for a long time and gender doesn't seem to matter. But that shouldn't be taken as proof that a soulless AI will be better at decision-making. Executing commands without empathy or conscience risks producing artificial psychopaths.
Will Sophia and her robot friends also hunt down terrorists? The Policy Brief recommends that the Member States should:
"Agree on a global framework regulating and strengthening oversight mechanisms for the use of data-driven technology, including artificial intelligence, for counterterrorism purposes."
This is a priority for the United Nations Office of Counter-Terrorism that was established in 2017 and is led by the Russian diplomat Vladimir Voronkov. Whereas terrorists can use robots and drones, robots and drones can also be deployed against terrorists. [16]
Who will be the terrorist of tomorrow? Maybe those who oppose this high-tech future.
An Alien Threat to Unite us all?
Another concern is the risk of military confrontation and arms race in Outer Space. With all the articles and briefings about UFOs that have flooded the internet lately – one can ask if the time has arrived to introduce the Alien threat to unite us all? Dr. Steven Greer did for example hold his UFO/UAP Disclosure Press Conference in June which was followed by a real UFO congressional hearing in the US Congress in July. [17]
The Alien threat is a topic that former US President Ronald Reagan talked about as early as in 1987 in a speech to the United Nations:
Can we and all nations not live in peace? In our obsession with antagonisms of the moment, we often forget how much unites all the members of humanity. Perhaps we need some outside, universal threat to make us recognize this common bond. I occasionally think how quickly our differences worldwide would vanish if we were facing an alien threat from outside this world. [18]
How did we end up in this bad sci-fi movie? Isn't it time that we change the course and build the future we truly want? A humane world that promotes life instead of the establishment of a technocratic and transhuman Robotocracy where War is Peace!
Footnotes
[1] press.un.org/en/2007/sc9000.doc.htm
[2] www.securitycouncilreport.org/whatsinblue/2019/01/open-debate-addressing-the-impacts-of-climate-related-disasters-on-international-peace-and-security.php
[3] press.un.org/en/2021/sc14732.doc.htm
[4] seors.unfccc.int/applications/seors/attachments/get_attachment?code=U2VUG9IVUZUOLJ3GOC6PKKERKXUO3DYJ
[5] climatefocus.com/wp-content/uploads/2022/11/clim-damage-by-russia-war-12months.pdf
[6] press.un.org/en/2023/sc15318.doc.htm
[7] www.swedenabroad.se/globalassets/ambassader/zimbabwe-harare/documents/handbook_swedens-feminist-foreign-policy.pdf
[8] Sweden dismantled its own defense during the aftermath of the Cold War.
[9] www.hrw.org/news/2022/10/31/swedens-new-government-abandons-feminist-foreign-policy
[10] www.csis.org/analysis/creating-accountability-global-cyber-norms
[11] 2021.cyberpolygon.com/agenda/
[12] www.un.org/sites/un2.un.org/files/our-common-agenda-policy-brief-information-integrity-en.pdf
[13] sustainabledevelopment.un.org/topics/biotechnology#:~:text=Biotechnology%20promises%20to%20make%20a,sustainable%20methods%20of%20afforestation%20and
[14] ITU AI For Good Global Summit 2023: António Guterres, United Nations Secretary General
[15] aiforgood.itu.int/summit23
[16] unicri.it/sites/default/files/2019-10/ARTIFICIAL_INTELLIGENCE_ROBOTICS_LAW%20ENFORCEMENT_WEB_0.pdf
[17] www.press.org/events/ufouap-disclosure-press-conference
[18] www.reaganlibrary.gov/archives/speech/address-42d-session-united-nations-general-assembly-new-york-new-york