The UN's Sustainable Development Goals (SDGs) are the basis of Agenda 2030, a collection of seventeen interlinked objectives, adopted as a resolution by the General Assembly of the United Nations in 2015.  They are described as a "shared blueprint for peace and prosperity for people and the planet, now and into the future." [1]  The UN Secretary-General's intention is to change the economies and cultures of the world to achieve these goals by 2030.  The goals are:
End poverty;
End hunger;
Good health and well-being for all;
Quality education available to all;
Gender equality in opportunity;
Clean water and sanitation universally available;
Affordable and clean energy;
Full employment with rewarding and meaningful work; economic growth with a shrinking environmental footprint;
Build and rebuild infrastructure;
Reduced inequalities among nations and among classes within nations;
Safe cities welcoming diverse populations;
Responsible consumption and sustainable production;
Preserve the present climate environment;
Conserve and sustainably use the oceans;
Protect, restore and then sustainably use terrestrial ecosystems, sustainably manage forests, combat desertification, rebuild topsoil and halt biodiversity loss;
Peace, justice, and strong institutions;
Global institutions empowered to reach global goals.
The economic goals seek to end poverty, offer rewarding and meaningful work to all, and create a more equitable distribution of wealth. The social goals include a decrease in crime and universal access to education and healthcare services. The environmental goals would restore topsoil and reduce water pollution while protecting wildlife. Noble aspirations – but how is the world to solve its major problems in such a short time? The 'how' is missing. The price tag is not.
"The UN Conference on Trade and development (UNCTAD) says achieving SDGs will require US $5 trillion to $7 trillion in annual investment." [2]
'Sustainable development' is an oxymoron. 'Development' means exploiting the earth and biosphere as a set of "resources" for human use. 'Development' also implies growth. The SDGs emphasize the 'interconnectedness' of environmental, social and economic aspects of their goals, but do not comment on their intrinsic conflicts. For example, industrializing the developing nations and expanding their infrastructure while contracting to net zero greenhouse gas emissions is impossible using today's technologies. Thus the SDGs are, in fact, mutually contradictory.
Historically, Agenda 2030 grew from Agenda 21, which included similar but less specific goals to be achieved during the 21st Century. Agenda 21 was adopted at the first Earth Summit in Rio de Janeiro in 1992.
There is no detailed plan for how the goals are to be achieved. Indeed, we are at the halfway point between the 2015 proposal and the 2030 timeline, and movement has been in the wrong direction. For better or for worse, the world has made no progress toward the SDG's signature goal of reduced carbon dioxide (CO2) emissions. From 2015 to 2021 world CO2 emissions increased from 35 billion tons to 37 billion.
In April 2023, the U.N. Secretary-General acknowledged these facts:
"Halfway to the deadline for the 2030 Agenda for Sustainable Development, we are leaving more than half the world behind.  The SDG Progress Report shows that just 12 per cent of the Sustainable Development Goal targets are on track.  Progress on 50 per cent is weak and insufficient.  Worst of all, we have stalled or gone into reverse on more than 30 per cent of the SDGs.  Unless we act now, the 2030 Agenda will become an epitaph for a world that might have been." [3]
His proposed solution called for massive new financing, and for development banks to take a 'new approach to risk':
"Multilateral development banks should transform their business models and accept a new approach to risk. This includes leveraging their funds to attract trillions of dollars of private finance into developing countries…"
He had little in the way of specific suggestions.
The SDGs are not necessarily a benign project designed by utopian officials. Historically, such intentions have been used to control developing countries and their resources by enticing them to take on unsustainable debt. Trillions of dollars may change hands, but will changes made in the name of the Sustainable Development Goals actually improve our lives?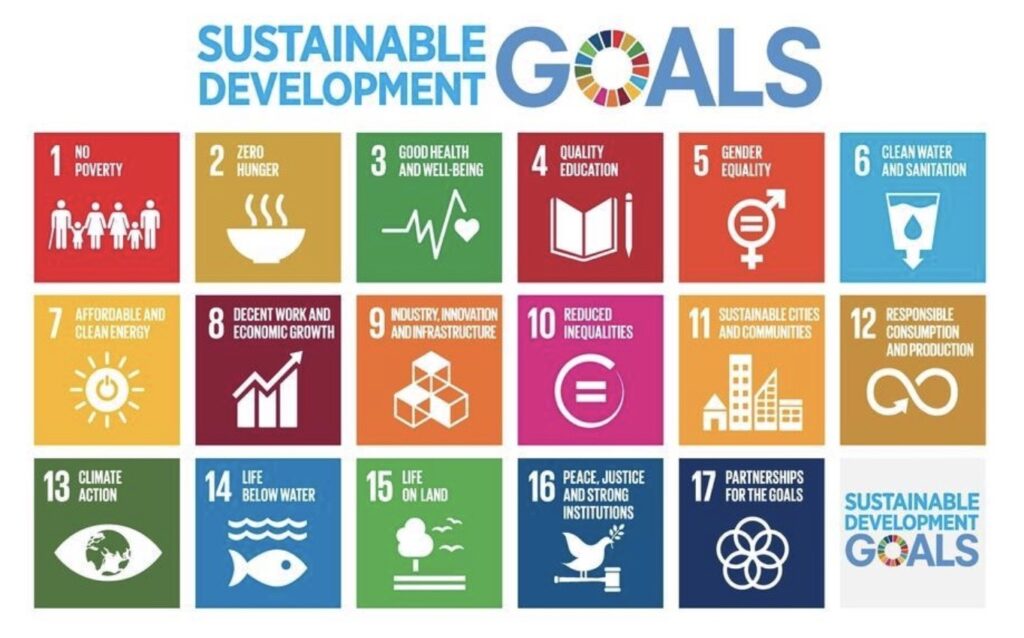 ---
[2] https://www.undp.org/sustainable-development-goals/partnerships-for-the-goals