Listen to this post:
The World Economic Forum or WEF was founded by Klaus Schwab in Geneva, Switzerland in 1971. It has developed into a futurist mix of private club and thinktank where politicians, captains of industry and various thought leaders can meet, discuss policy and be seen at its yearly conclaves in Davos or China, and other smaller meetings throughout the year.
In the late 1960s, Klaus Schwab attended a graduate program at Harvard University managed by Henry Kissinger, who later became Nixon's Secretary of State. Schwab has described his mentor, Kissinger, as one of the most influential people in his life.[1]
Kissinger is known for his "Realpolitik" approach to diplomacy, reflected in a 1974 National Security report (NSSM-200): "Implications of Worldwide Population Growth for US Security and Overseas Interests", known as The Kissinger Report [2] which was declassified in 1989.
Kissinger observed that as resource-exporting countries became more prosperous, they locally processed and consumed their resources more and exported less, at the expense of western industrial profits. In the case of crude-oil extraction, for example, local refineries would produce fuels, and then a plastics industry would develop.
According to author Cynthia Chung,
For Kissinger, the US foreign policy orientation was mistaken in its emphasis of ending hunger by providing the means of industrial and scientific development to poor nations, [for] according to Kissinger, such an initiative would only lead to further global disequilibrium as the new middle classes would consume more, and waste strategic resources. [3]
In 1993 the WEF began a global-leadership training program called "Global Leaders for Tomorrow" which was later renamed the "Young Global Leaders" program. The program identified potential future leaders under age forty, enrolling them in a multi-year program of mentoring and networking with other future leaders, while instilling in them the WEF's goals. The program also provided extensive contacts to assist them during their hoped-for rise to power.
Numerous "Young Global Leaders" have become prominent figures, including Tony Blair, Richard Branson, Justin Trudeau, Chrystia Freeland, Jose Manuel Barroso, Angela Merkel, Emanuel Macron, Nicolas Sarkozy, Jacinda Ardern, Sana Marin, Jack Ma, Pete Buttigieg, Gavin Newsom, Nikki Haley, Bill Gates, Jeff Bezos, Peter Thiel, and Mark Zuckerberg. Five were heads of state during the pandemic.
Naturally there are concerns about how the many WEF-mentored presidents, prime ministers and other public officials are influenced by the WEF's policy goals, and where their primary allegiances lie.
Klaus Schwab publicly stated, "So yesterday I was at a reception for Prime Minister Trudeau, and I know that half of his cabinet, or even more than half of his cabinet, are actually Young Global Leaders."
Ukraine's president, Volodymyr Zelensky, may have been a "Young Global Leader." He has signed into law one initial step of the WEF's "Great Reset," a digital ID combining Universal Basic Income, a Vaccine Passport, access to official documents and the ability to upload your tax return, all within the 'Diia' phone app. [4] [5] [6]
The stated purpose of the Young Global Leaders program has been to "identify and advance a future-oriented global agenda, focusing on issues at the intersection of the public and private sectors."[7] Public–private partnerships are a cornerstone of the World Economic Forum agenda. While said to involve nations and large companies working together to solve problems in a more "effective" way, they have been criticized for using taxpayer funds to assist private enterprises.
To consider how Young Global Leaders shape our world, one might look to Canada or France, whose executive ranks are populated by alumni of this program. One might look to the WHO, financially and operationally influenced by alumnus Bill Gates. The United States and United Kingdom also have many civil servants, leaders, financiers and captains of industry who have participated in this program.
The interests they serve may be those of the WEF, as each head of state who was a young global leader gave strong support to lockdowns, COVID vaccines, quarantines, digital IDs-vaccine passports, a switch to 'sustainable' energy in place of fossil fuels, and a laser focus on global warming. These leaders' styles are autocratic, and they seemed to move in lockstep while curtailing citizens' rights and freedoms during "emergencies" such the COVID pandemic. Their prominence gives the WEF an outsized role on the world stage.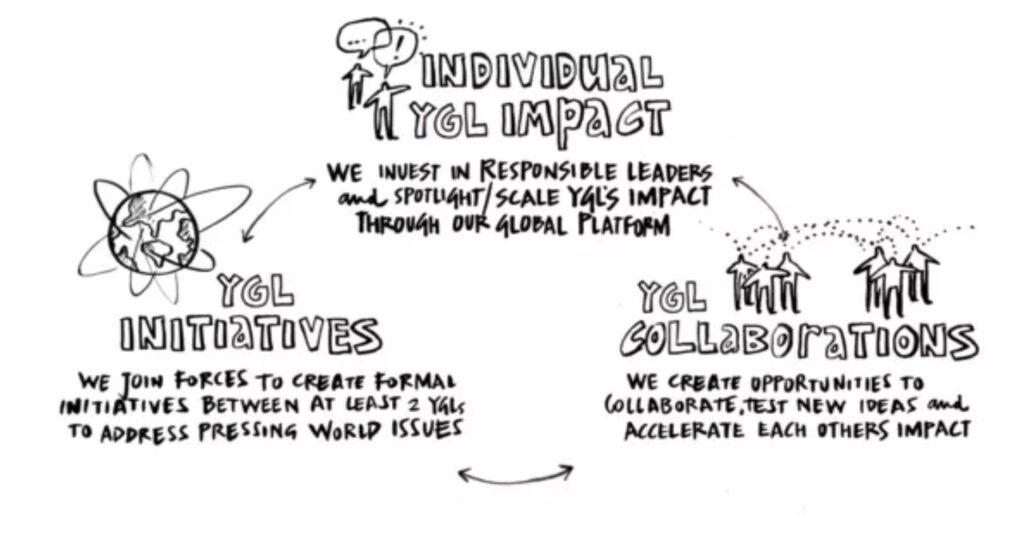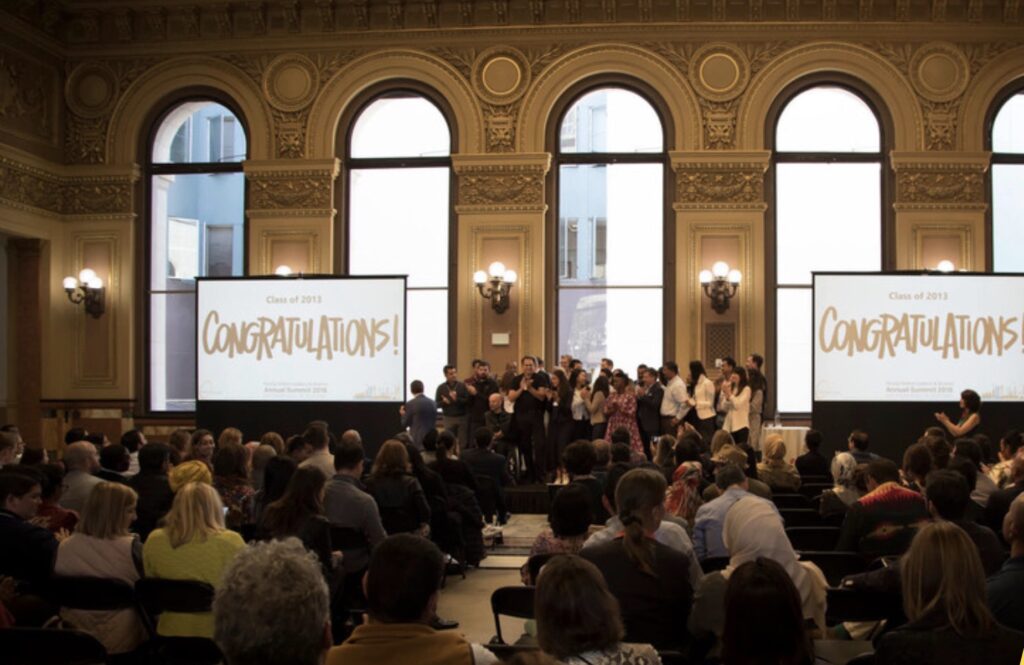 ---
[1] https://strategic-culture.su/news/2021/09/17/the-great-reset-how-managerial-revolution-was-plotted-80-years-ago-by-cia-neocon/
[2] https://pdf.usaid.gov/pdf_docs/PCAAB500.pdf
[3] https://strategic-culture.su/news/2021/09/17/the-great-reset-how-managerial-revolution-was-plotted-80-years-ago-by-cia-neocon/
[4] https://www.theguardian.com/world/2023/may/26/meet-diia-the-ukrainian-app-used-to-do-taxes-and-report-russian-soldiers
[5] https://www.armstrongeconomics.com/world-news/war/ukraine-adopts-wef-proposals/
[6] https://www.weforum.org/people/volodymyr-zelenskyy
[7] https://www.globalresearch.ca/world-economic-forum-young-global-leaders-revealed/5769766