by Meryl Nass M.D. and Katarina Lindley, D.O.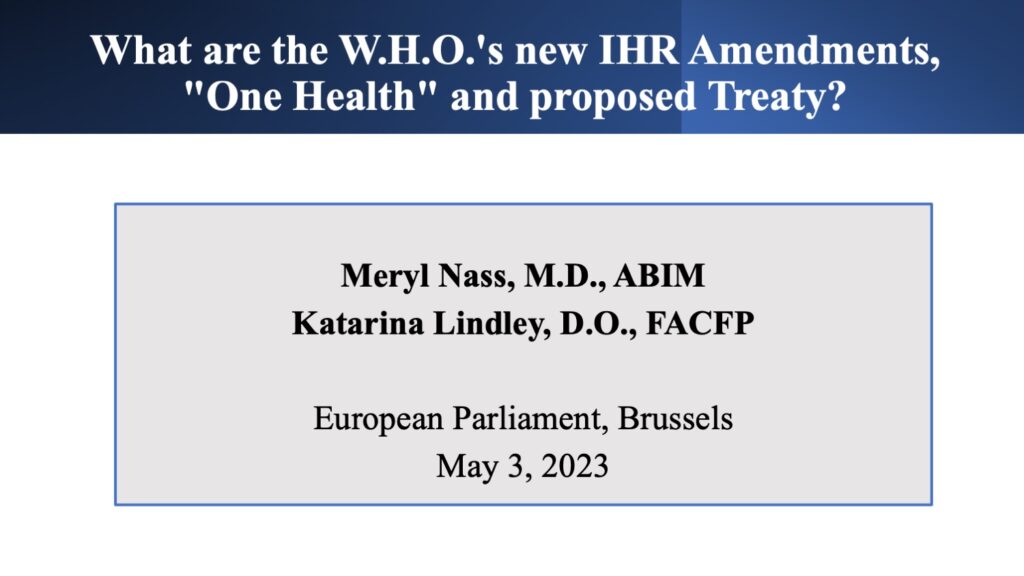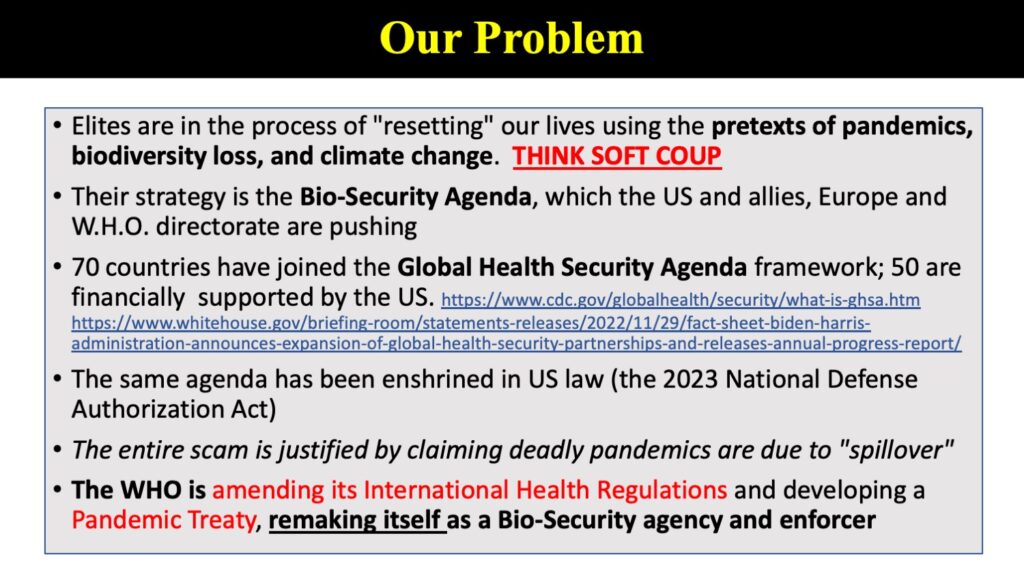 Global elites are in the process of resetting our lives using the pretext of pandemics, biodiversity loss, and climate change. This is a soft coup–without bullets or armies. Their strategy is the bio-security agenda, which the United States and its allies, Europe and the WHO secretariat are pushing out.
70 countries have joined the global health security agenda framework and 50 are receiving funds for this network from the United States.
https://www.cdc.gov/globalhealth/security/what-is-ghsa.htm
https://www.whitehouse.gov/briefing-room/statements-releases/2022/11/29/fact-sheet-biden-harris-administration-announces-expansion-of-global-health-security-partnerships-and-releases-annual-progress-report/
The bio security agenda and allegiance to 'One Health' have been enacted into US law, in the 2023 national defense authorization act. $5 billion has been specifically allotted for the international funding mechanism to support the bio-security agenda.
The idea that one can successfully plan and prepare for unknown future pandemics, building out a massive bio-security network, relies on the claim that deadly pandemics are due to spillover of viruses or bacteria from animals to humans. This claim is false. The two last public health emergencies of international concern declared by the WHO's director-general were COVID-19 and monkeypox, renamed Mpox. Each virus causing these diseases was constructed in a laboratory, and had nothing to do with spillover from animals. The theoretical basis for the entire Global Health Security Agenda is built on a house of cards.
Yet the World Health Organization is already remaking itself as a bio-security agency and enforcer.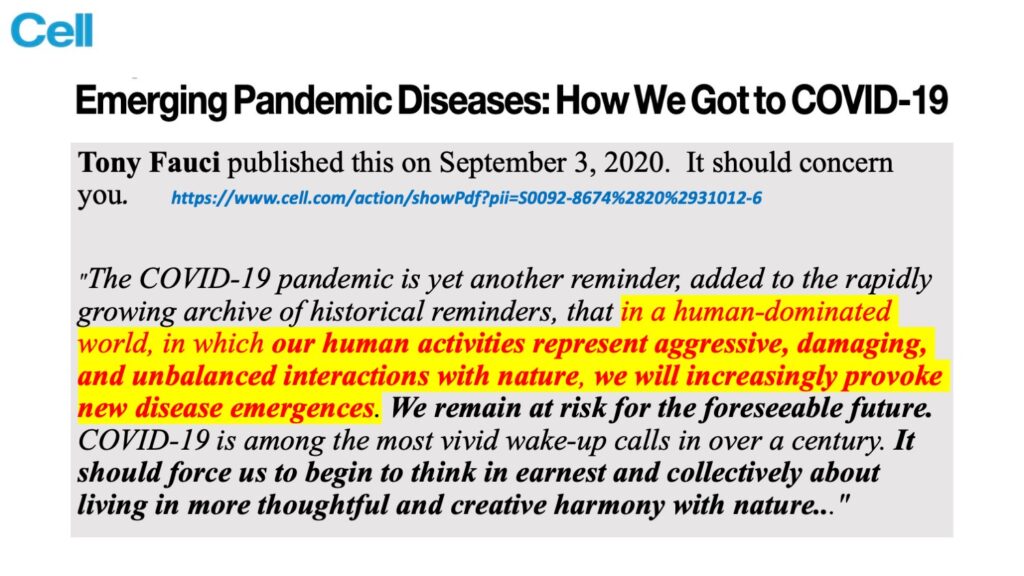 https://www.cell.com/action/showPdf?pii=S0092-8674%2820%2931012-6
Not only were we fed the idea that pandemics are becoming common due to spillover from animals, but also that damaging human activities and humanity itself are to blame. Who pushed these ideas out to the world? Tony Fauci and Peter Daszak were major proponents of this concept, designed to shield them from blame for creating pandemics, get them and the biosecurity agenda more money for "preventive" activities, and transfer the blame for pandemics to human activities, overpopulation and environmental destruction.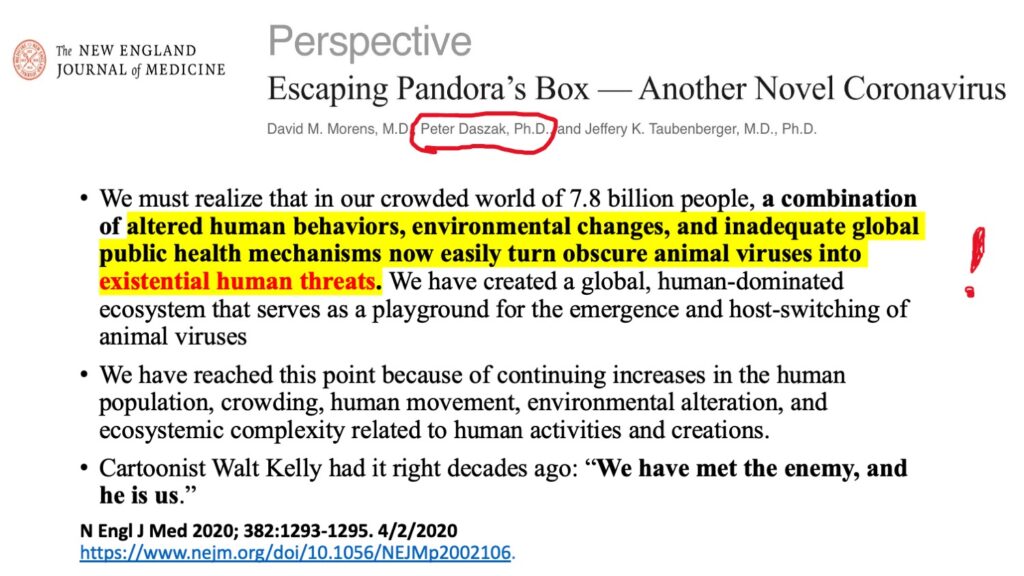 https://www.nejm.org/doi/10.1056/NEJMp2002106
This paper is authored by Peter Daszak and 2 Fauci lieutenants. They claim that "a combination of altered human behaviors, environmental changes, and inadequate global public health mechanisms now easily turn obscure animal viruses into existential health threats." They further claim, "We have met the enemy and he is us."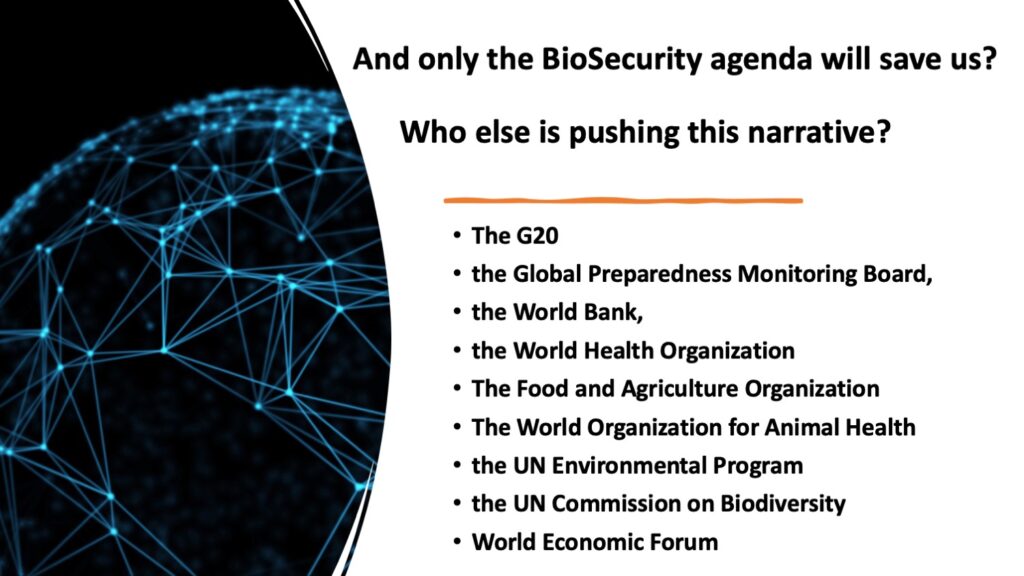 Who else is pushing this fanciful narrative? Only the major international organizations on the planet, including the G20, World Bank, World Economic Forum and many UN and other international agencies.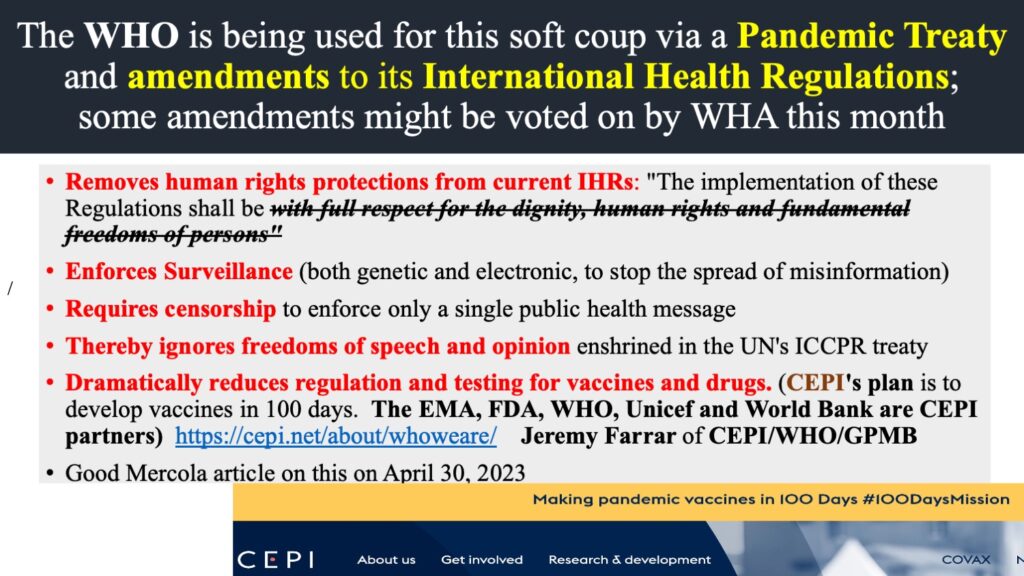 The method by which this soft Coup is being undertaken is through a pandemic treaty and amendments to the World Health Organization's international health regulations. Some of these amendments might be voted on at the world health assembly meeting later this month.

The proposed IHR amendments remove human rights protections that are currently guaranteed in the existing IHRs. One amendment proposes to do away with the phrase, "With full respect for the dignity, human rights and fundamental freedoms of persons." The proposed amendments enforce surveillance, both genetic surveillance and electronic surveillance, to stop the spread of misinformation. They require that nations censor their citizens on social and mainstream media to enforce only a single public health message created by the WHO. Thereby these amendments ignore freedoms of speech and opinion that are guaranteed and enshrined in the United Nations international covenant for civil and political rights.

The amendments dramatically reduce regulation and testing of vaccines and drugs. The WHO's new chief scientist, Dr. Jeremy Farrar, who helped design and fund the Solidarity and Recovery trials that overdosed hospitalized patients with hydroxychloroquine, is a leader in the push to deregulate pandemic vaccines. Six years ago Dr. Farrar helped found CEPI, the Coalition for Epidemic Preparedness, which advertises "Making pandemic vaccines in 100 days." This timeline allows for no testing in humans before rollout.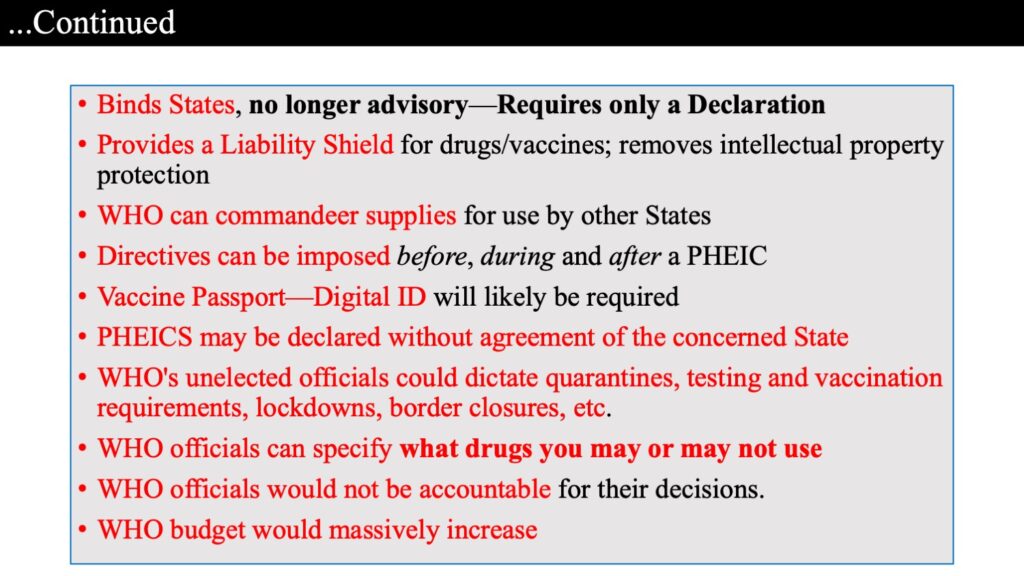 The amendments change the IHRs from recommendations into binding directives that nation states are obliged to follow. A liability shield will be provided to manufacturers of pandemic medical products. The WHO can demand supplies from one nation for use by another. Directives can be imposed before, during and after a pandemic. Vaccine passports (digital IDs) are proposed. Emergencies may be declared without the agreement of the concerned state(s). The Director-General could impose quarantines, lockdowns, border closures, testing and mandated vaccinations. The D-G could specify what drugs you may or may not use. The WHO budget would massively increase, and there is no accountability for the decisions taken by WHO officials.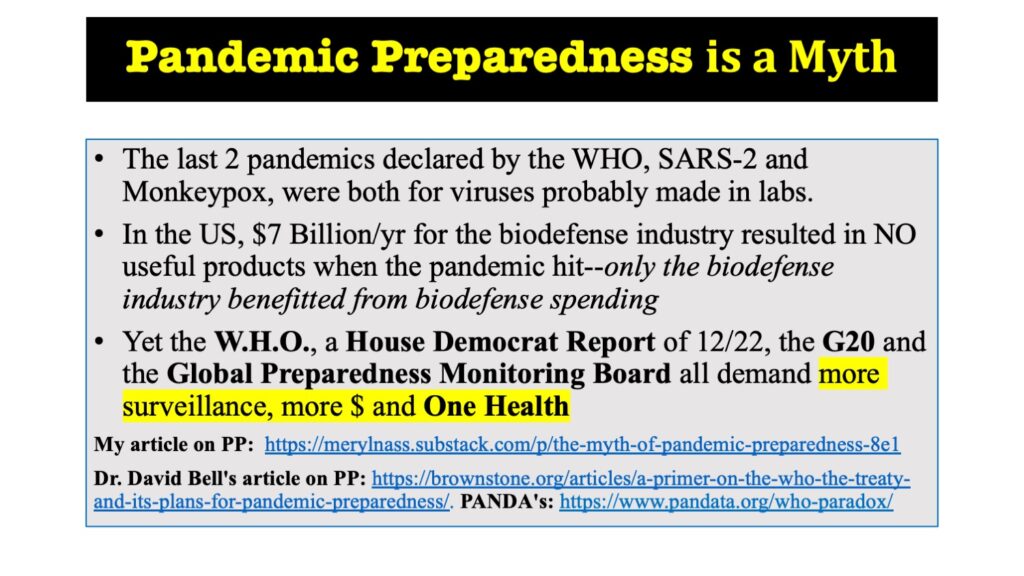 Meryl Nass Substack Article on Pandemic Preparedness
Brownstone Article on Pandemic Preparedness
Panda Article on Pandemic Preparedness
Pandemic preparedness is a myth. Despite about $7 billion per year spent in the US, we had no vaccines, no drugs, inadequate supplies of masks, gloves, gowns and other PPE–and seemingly no knowledge of what to do. The existing pandemic plans were ignored. Only the biodefense industry benefited from our biodefense spending.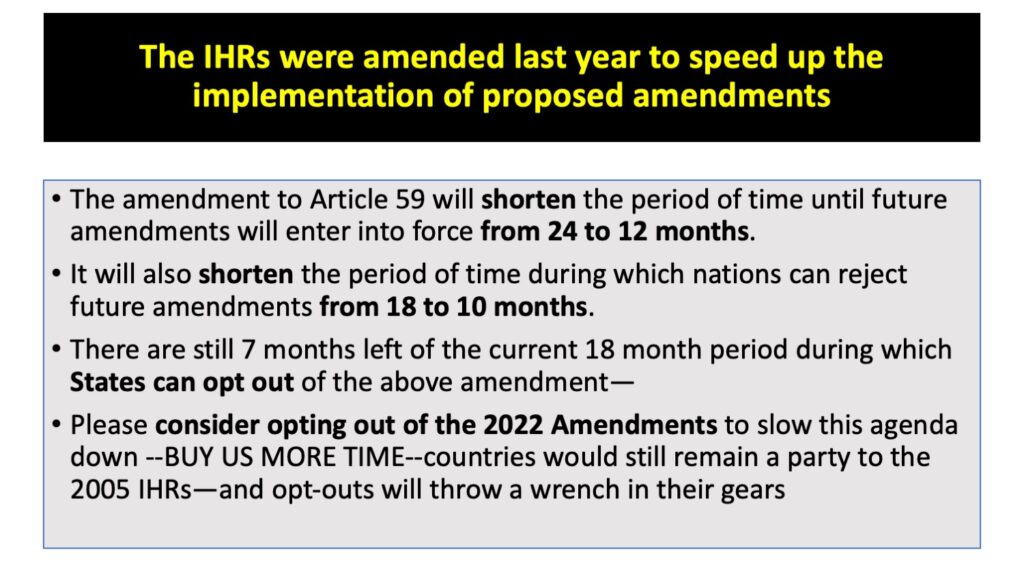 The international health regulations were amended last year to speed up the implementation of proposed amendments. This shortened the period of time until future amendments would enter into force from 24 to 12 months. It also shortened the time during which nations can reject future amendments from 18 to 10 months. States have only seven months left to opt out of the amendment I just described. This would buy nations more time to evaluate the proposed amendments and treaty before having to accept them, while still remaining a party to the current international health regulations. Opt-outs will throw a wrench in their gears.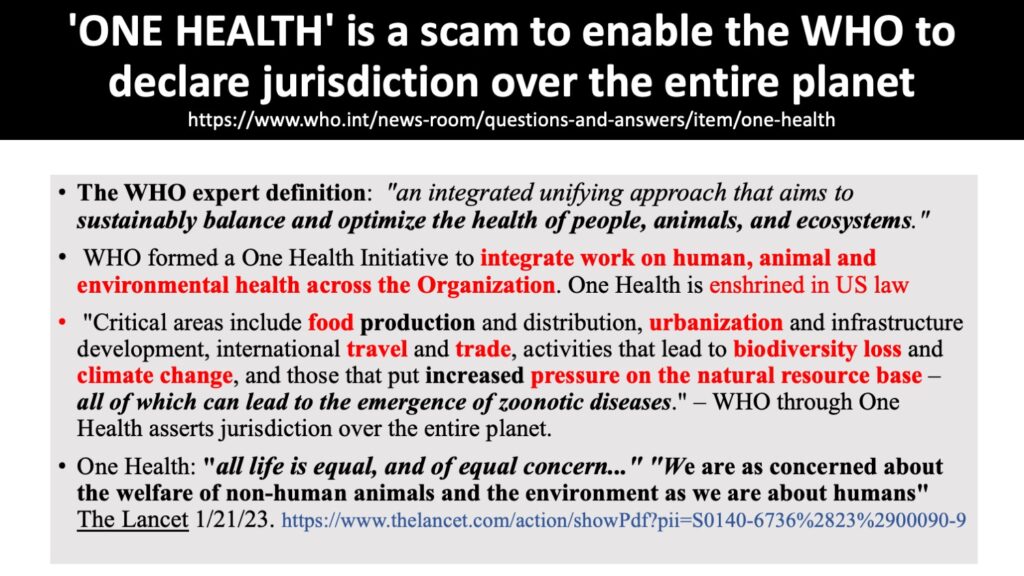 "One Health" is yet another fabricated concept to enable the World Health Organization to declare jurisdiction over the entire planet. It is vaguely defined as "an integrated unifying approach that aims to sustainably balance and optimize the health of people, animals, and ecosystems."

This loose and fuzzy definition merely serves to enclose everything in the world into the purview of 'One Health.'

The Lancet editors provided us a frightening interpretation of 'One Health' in an editorial published in January. Instead of balancing the health of people and animals, the Lancet claims, "We are as concerned about the welfare of nonhuman animals and the environment as we are about humans." This seems to be a justification to lower the value of human beings to that of animals.
We must be very wary about the agenda of the World Health Organization and bio security apparatus, and our nations must seriously consider exiting the WHO.